Geospatial data or geoinformation is becoming increasingly important in the context of the digital transformation of society and the economy. The spatial relationship of data can be implemented in an intelligent and profitable way through the use of geoinformation technologies (GeoIT).
We help you to use this location intelligence for your business processes and models. EFTAS is a GeoIT company based in Münster. Customised GeoIT concepts from a single source are our domain. Münster in Westphalia is our city.
Do you know Münster? There are larger cities and more affordable cities. But Münster is special.
Münster combines tradition, innovation, environmental awareness, individuality and that certain je ne sais quoi. Münster is our home, and an experience in itself. As one of the leading GeoIT service providers, we provide sustainable solutions for our clients in industry and administration – worldwide. Owner-managed since 1988. Certified according to ISO 9001 and ECOPROFIT.
GeoIT is not limited to borders and we operate worldwide. Important aspects of our portfolio are the production and processing of geoinformation and the sustainable transfer of technology in international cooperations.
We coordinate and implement projects on various scales, ranging from the collection of regional data to the preparation of large transnational data sets. Our international projects cover training applications, data validation and quality management solutions. We support and implement institutional GeoIT set-ups in line with our tradition of future-orientated technology transfer. Each requirement is addressed in relation to social, environmental, cultural, political and legislative aspects, regardless of language barriers.
Through consultancy and cooperation on a par with local stakeholders, we have established a continuously growing global partner network of regional companies, state authorities, UN and EU authorities as well as development banks. A network for cooperating, to sharing information and learning from each other – globally!
Our international activities at a glance.
international

∂

eftas.com
The team is crucial. It has a multidisciplinary and international background and consists of experts with different technical specialisms – geoscientists, IT and system experts, engineers, economv and administration specialists. Many people that work hand in hand and use their broad expertise day by day. That is how it has to be at EFTAS as a one-stop provider of GeoIT services.
Flat hierarchies, short decision-making processes and an open corporate culture allow for exceptionally productive cooperation. EFTAS is shareholder-managed. The remarkable staff continuity at EFTAS, especially in key positions, guarantees sustainable and professional work.
Agriculture and Forestryt
Environment, nature and landscape
Infrastructure and mobility
New projects, new challenges, new opportunities – for you and for us! Come and work with us in Münster. Fascinating work, cooperative personal management with an emphasis on personal responsibility and very good development opportunities are our principles for satisfied staff. The corporate culture of EFTAS, with its open doors, corporate functions and a company sports group, helps to integrate new employees into the team.
We also support junior employees in developing their potential. EFTAS offers training for geomaticians and office administrators. Students are also welcome to work with us. From exciting internships and innovative final theses to challenging jobs for working students – take advantage of our various opportunities to start and develop your career.
EFTAS is committed to equal career opportunities.We do not discriminate on account of ethnic origin, religion, gender, disability or age.
The GeoIT sector is challenging. The range of development areas is growing all the time. Innovation cycles are also becoming more dynamic.
In order to grow stronger together, EFTAS actively engages in numerous networks:
EFTAS is easy to find within the popular cycling stronghold of Münster and is an approximately 15-minute walk or six-minute bike ride away from the central railway station.
Arriving by train and bus
From bus stop A in front of the station, take bus number 2 or 10 towards Handorf until the Zumsandestraße stop, then walk approximately 200 m in the same direction as the bus and take a right turn onto Oststrasse. After 20 m, enter the main entrance of the T-Com building on the right, where you will find EFTAS on the second floor.
Arriving by car
From north/east:
Take the A1 motorway and towards Münster. From the Greven interchange (A1/B481), follow the main road to Münster. After a gated level crossing, continue for 80 m before turning right onto Warendorfer Strasse towards the city centre. Immediately before the third traffic light, turn left onto Oststrasse. After 20 m you will see the main entrance of the T-Com building on the right, where you will find EFTAS on the second floor.
From south/west:
From the Münster-Süd (A1/A43) interchange, head towards Münster. As you approach Münster, follow the signs to the central station (Hauptbahnhof). From here, follow the signs to Bielefeld/Osnabrück, then turn right onto Warendorfer Strasse, where you will pass underneath a railway overpass. At the second traffic light 200 m further on, turn right onto Oststrasse. After 20 m you will see the main entrance of the T-Com building on the right, where you will find EFTAS on the second floor.
Arriving by air (FMO):
EFTAS is located approximately 25 km south of Münster-Osnabrück airport (IATA code FMO). At the airport, you can either take a taxi, which will take about 25 minutes to reach EFTAS's office, or take the airport shuttle bus to Münster central station (Hauptbahnhof), which will take about 40 minutes. Then, follow the instructions for "Arriving by train". For detailed information on shuttle bus and hire cars, please see FMO.
Printable directions as a PDF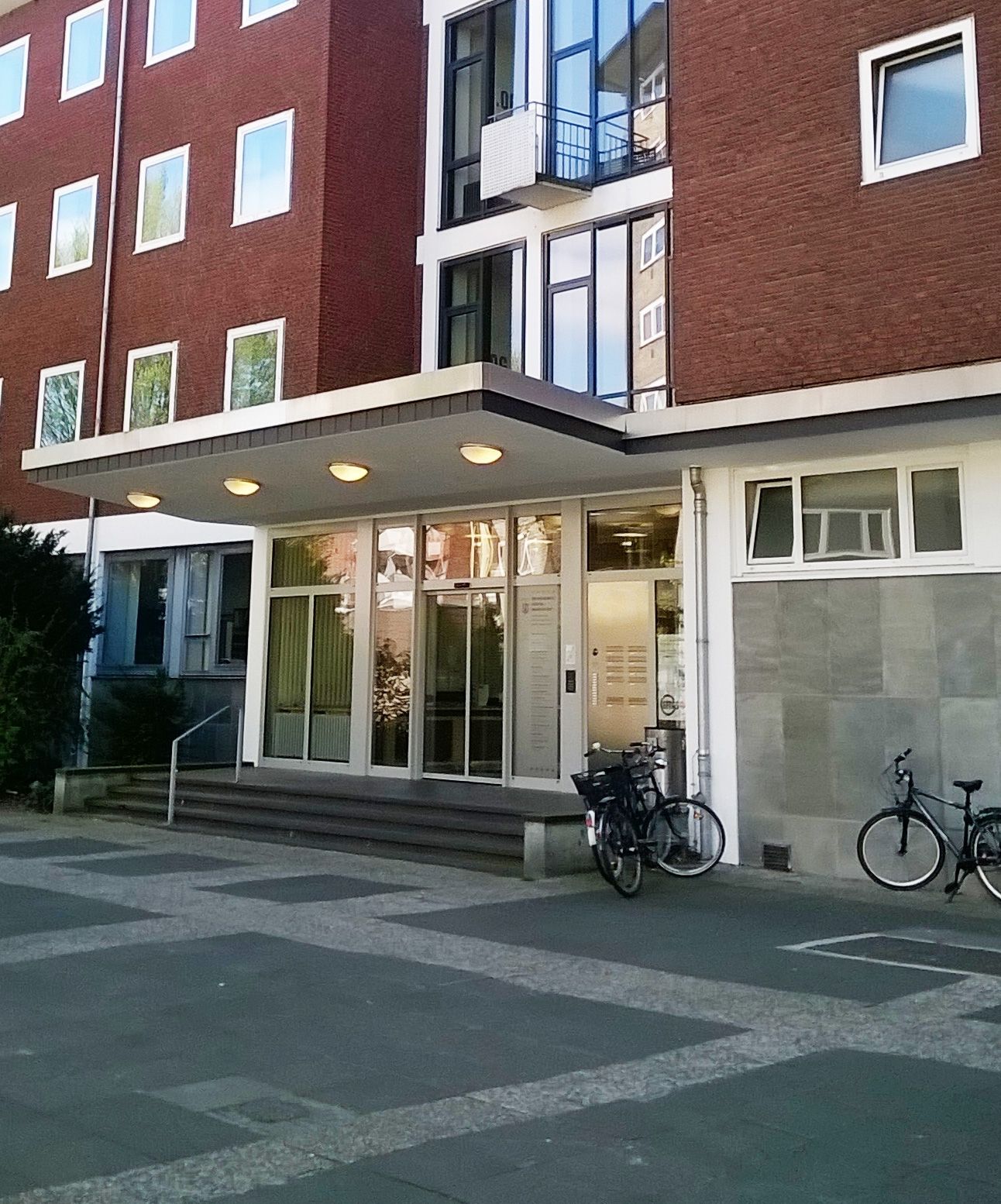 Plan your way to us.
With the interactive map from Google Maps, you can easily find to us.
If you have any questions about the directions, please contact us.